Opportunities
SALES EXECUTIVE - online and offline

This is an exceptional opportunity to be part of an expanding London based hospitality media and event organisation. The company focusses on growth areas within the b2b hospitality sector and has an innovative and progressive approach to driving on and offline sales.
Supported by the Marketing department, you will be responsible for identifying new, and maintaining existing commercial sales activities and delivering growth. The successful candidate will report directly to the Head of Sales, and you will need to have an entrepreneurial spirit. A minimum of 2 year's sales experience is required, together with the ability to work under your own initiative and as part of a team.

This role will ideally be suited to those who have experience in the following areas:
Hospitality media sales

Online sales

Event / conference delegate and sponsorship sales
KEY DUTIES:
Develop new client relationships

Relationship management

Field/face to face negotiation

Telephone sales and business development

Support the sales and marketing function

Assist with editorial direction / content
COMPETENCIES:
Confident & well presented

Strong organisation skills & attention to detail

Ability to motivate and inspire

Background in sales and marketing preferable

Innovate, flexible, reliable and proficient
The package:
Basic salary circa £25k + 10% uncapped target commission, based on 40 hour week
All work related travel expenses paid
Fully expensed mobile telephone after successful probation
Paid for training skills for business growth / career enhancement where appropriate
Office / home based with full ongoing support
Part time positions also available.
To apply, please email your CV in the first instance to: info@internationalhospitality.media
Closing date: December 5th 2017. No agencies please.
PART TO FULL TIME SALES EXECUTIVE (Dubai based)

A fantastic opportunity has arisen for an impressive conference / event sales executive to join the team on an initial 3-6 month contract. The ideal candidate will be a charismatic conversationalist and brilliant negotiator. You must have the ability to close sales and possess a minimum of 6 months conference / event sales experience, other sales background will be considered.

In this exciting role, you will be continuously developing and implementing new sales ideas to generate revenue growth for the company. You will have a designated portfolio of  existing business and will be tasked to progressively build up a new business clientele. Your tasks will involve selling conference stand and sponsorship sales of a proven annual hospitality conference in Dubai, via email, telephone and face to face meetings. The ability to research and attending relevant hospitality events to stay abreast of market developments would be required too.

The role offers a competitive salary and commission with the prospect of future career advancement.
To apply, please email your CV in the first instance to: info@internationalhospitality.media
Closing date: December 5th 2017. No agencies please.
GET READY FOR THE WORLD: MARKETING AND EVENT MANAGEMENT INTERNS

Our Intern 'hospitality stars' are a vital part of the IHM team. An internship with us is win-win. You get real, hands-on work experience, and we have the opportunity to identify fresh, young talent.
Because IHM is growing quickly, every intern is given basic training and encouraged to quickly contribute within the real business activity. You're given significant responsibility, and your efforts have a direct impact on the success of the team and the wider business.
Exposure to business is substantial at IHM. It happens right there in front of you and it happens fast. You interact daily with managers and executive team members. The learning curve is steep and it takes an ambitious and brave young individual to succeed - are you ready?

We have short term and long term placements available throughout the year
To apply, please email your CV in the first instance to: info@internationalhospitality.media
EDITORIAL INTERN
International Hospitality Media is looking for an enthusiastic and versatile editorial intern to work across two industry-leading b2b websites in the hospitality sector.
The successful candidate will work closely with the websites' editor to plan and produce quality content that meets the needs and interests of the readership.
DUTIES:
Writing and uploading news stories
Researching, writing and uploading features
Compiling newsletters
Attending industry events
Social media
The role will mainly involve working remotely, with regular supervision and contact via Skype, as well as weekly meetings.
Please apply via email to george@internationalhospitality.media with your CV and links to some examples of your written work.
Read stories of our 'hospitality stars' who worked as Marketing and Events interns May - Aug 2017.
Eva Schuts

"My name is Eva Schuts and I am a second year student Hotel and Event Management from Amsterdam. At the end of each year we need to do a work placement, during our summer break for 13 weeks at an industry related company. This year I had the opportunity to go to London and do an internship at International Hospitality Media. London is a very big city, and the first month I really had a hard time to get used to this. The distances are very large, so you have to travel a lot. Also, due to the fact that it is such a big city, it is hard to make friends. Luckily, after the first month I got in contact with various people and could explore London with them during the weekends or in the evening after work. I had the opportunity to be part of two big events International Hospitality Media hosts: the Boutique and Lifestyle Hotel Summit and the Serviced Apartment Summit Europe in London. I have met a lot of interesting people from within both market, and got the opportunity to widen my network. At the SASEU, I was in charge of all the social media channels the company owns, which I really enjoyed. Also, I made a video interview for my school research about the market potential for another hospitality event. During my internship I have learned that marketing, and social media, are of great importance to drive business for a company nowadays. I was also responsible for the Boutique Hotel News and Serviced Apartment News social media channels. Furthermore, I have learned a lot about doing research into new markets and events. I would like to say thanks to Piers, and the whole IHM team for this learning experience and for making me feel part of IHM during my study work placement. We will meet again in January 2018 for the Serviced Apartment Summit Recharge in Amsterdam!"
Mitch de Leeuw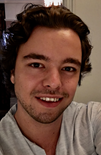 Working at International Hospitality Media for the past 14 weeks has been a great learning experience for me. My first workday was at the Boutique, Lifestyle and Hybrid Hotel Summit in London which was a great way to start my internship off. I helped host the amazing hotel tours in The Ned, Montcalm Royal London House and Andaz Liverpool Street, which was a great way to discover more about what London hotels had to offer. At the Summit itself I got to speak to a lot of different people all related to the Boutique, Lifestyle and Hybrid Hotel sector giving me further insight into the business. In brief, I couldn't have hoped for a better first day.
Later in my internship I also helped with another event within the IHM portfolio - Serviced Apartment Summit Europe which looks to drive new business opportunities for serviced apartment providers and hospitality investors. Setting up and having a presence on the Serviced Apartment News exhibitor stand made me understand the need for effective sales and marketing, and I got involved in helping organizing the smooth running of the event too. 
These practical experiences inspired me during the rest of my internship working as a hospitality analyst. Being an intern means not always doing the most fun tasks of course. But I learned to see that even the most challenging tasks that can be dull from time to time still can make a big difference if you do it right. From day one the team have given me a lot of freedom to come up with my own ideas and ways of doing my job. I learned not to just come up with problems I encounter but rather with solutions to those problems.
That said, everybody was always happy to help me out when required, even at the most busy times and I was given sufficient time to work on my assignment too. Piers Brown has been a great mentor for me and I would to thank him and the rest of the team for a great experience at IHM.